The 180sqm self catering house consists of 5 bedrooms. 2 bathrooms a kitchen, lounge a large porch with [transkei-accomodation, jeffs-place, house] braai (BBQ) area. This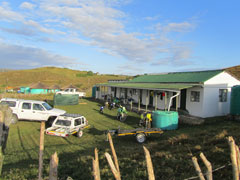 selfcatering house is suitable for two families.
The house is situated a 100m from the sea and 28 m above sea level providing an awesome seaview.
Jeff's Place is 500m from the "Kraal Backpackers' facility bordering the Mpande Rivermouth, Transkei. All you self catering needs, kitchenware and utensils are available.
What you need to know before booking an extended holiday, longer than 3 days | Accommodation in Transkei | Fishing in Transkei:
We suggest you bring your own ice (icemaker) as it is hard to find it in these parts of the Wild Coast.

We guarantee that your bank balance will be better off than the Jones's – with the other difference being that you will be better refreshed and recuperated than them

No time for boredom, unless you are boring

Jeff's Place Self Catering as the crow flies, is reasonably close to drive, yet a bit further when driving.
Jeff's place, as the crow flies from:
Mpande 1.8 km and to drive 13 km
Sharkspoint 2.2 km and to drive 12.8 km
Bigjump falls 3.7 km and to drive 5.8 km [the view]
If you are coming from:
Pretoria: 920 km
Johannesburg: 850 km
Durban: 375 km
Cape Town: 1320 km
Bloemfontein: 580 km
Port Elizabeth: 570 km
Umtata: 90 km
East Londen: 320 km